Charlie the crocodile is on his way to getting a spacious new enclosure at the Canberra Reptile Zoo, thanks to container recycling efforts through the ACT Container Deposit Scheme (CDS).
At 2.5 metres the saltwater croc still has a lot of growing to do, and the chilly Canberra weather means the new enclosure – large enough to house him when he reaches an expected five metres in length – must be entirely indoors.
"We want to make it as natural as possible to show people what his home would be like," says owner and manager Peter Child. "It will be an amazing exhibit."
The nonprofit reptile zoo serves as a tourist attraction and an education centre in the ACT, with Charlie a key part of the education program. "We have a lot of apex predators because people generally don't understand them," Peter explains.
Peter adds that Charlie is a "real drawcard" for the region with people travelling a long way to see him. "He tries to kill us regularly which makes him a character," says Peter. "It's in his nature."
Peter also tells the story of how Charlie once terrified a group of visitors. "Twice a year we have to catch him to weigh him," he says. "This time, as we tried to catch him, he swung around and broke a panel of glass. It was safety glass, so only one side shattered and everyone was perfectly safe, but people thought the croc was coming for them."
Building a suitable new crocodile enclosure for Charlie is vital because if he can't be housed appropriately he'll have to be sent back up north, says Peter, adding that "crocodiles with perfect skin [like Charlie's] are often used as a commodity". This means it's more likely Charlie will become a handbag than a tourist attraction if he can't stay in Canberra.
Peter says the idea to fundraise through the ACT CDS came from his parents, Paula and Derek, who remain the "driving force" behind the container returns. The reptile zoo hosts around 10 parties – mostly children's birthday parties – each weekend. The guests bring their own food and drinks, so there is a steady stream of empty eligible drink containers, which Paula and Derek realised could be turned into an income stream.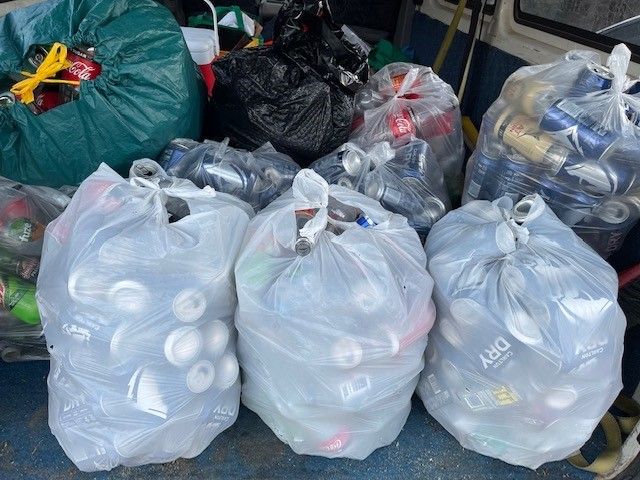 Peter says staff and volunteers at the zoo also bring in their drink containers from home. With nearly 10 volunteers and 12 staff this adds up.
All of the container refunds go towards the fund for the new crocodile enclosure. Peter says that with other donations from the public included, they have raised thousands of dollars and are nearly halfway there already.
"It might only be 10c per bottle or can, but if you put enough together it adds up," says Peter. "It's a real analogy for conservation. It might feel insignificant, but every little bit you do counts, and if everyone does it and you keep doing it, it all contributes to making a real difference."
The ACT CDS is a partnership between the ACT Government, scheme coordinator Exchange for Change and network operator Return-It.