Eligible containers – good to go!
Eligible drink containers are those that are commonly found in the litter stream and are smaller, more portable containers.
Check the label for the '10c' refund mark to see whether a container is eligible and can be returned through the ACT Deposit Scheme (ACT CDS).*
| ✔ Cartons (flavoured milk or juice boxes)   |     ✔ Cans (aluminium or steel)   |     ✔ Bottles (glass or plastic) |
| --- | --- | --- |
Most containers between 150ml and 3 litres are accepted and can get you a refund.
*Disclaimer: Certain containers with the '10c' symbol on the label, such as Yakult bottles, are not eligible through the ACT CDS. This is because they are eligible for a refund in another state or territory. These containers and labels are often produced and supplied nationally, so this is a standard message. Please dispose of these containers in the appropriate household bin.
---
Ineligible containers – not refundable
Ineligible drink containers are larger containers typically consumed at home and are not commonly found as litter, so they are not eligible to be returned through the ACT CDS.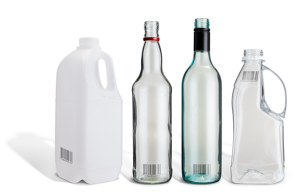 ✖ Plain milk bottles or cartons  
    ✖ Glass wine bottles  
    ✖ Glass spirit bottles  
  ✖ Cordial bottles  
    ✖ Pure juice containers over 1 litre (comprising of at least 90% pure juice)
These containers are not eligible under the ACT CDS as they are typically consumed at home and are not commonly found as litter. They can be recycled in your recycling bin at home.
Acceptable container conditions
Eligible cans and bottles will be accepted either crushed or uncrushed, as long as the barcode and 10c mark is visible on the label
Please put the lids in the appropriate bin at home. Many common drink container lids can be recycled. For more information and tips on how to recycle lids and other items, visit www.cityservices.act.gov.au/recyclopaedia
Please ensure drink containers have the 10c refund mark and a barcode so it can be verified as registered under the scheme and deemed eligible for a refund.
When returning via a Drop & Go return point, please ensure containers are in a clear plastic bag. This is so Return-It staff can see the contents of the bag before handling them, to minimise any risk to their safety.
Return points
There are a number of return points located across the ACT – there is one near you!
Find out more
Returning containers
You can return eligible drink containers to three different types of return points: Drop & Go Point, Drop & Go Pod and Cash-back Depot. Each type of return point offers different refund options.
Find out more