Crowne Plaza Canberra welcomes a high number of guests – and with high numbers of interstate and international visitors comes high waste production.
The people at Crowne Plaza Canberra, however, have jumped on board the ACT Container Deposit Scheme (ACT CDS) and are not only recycling their eligible containers but are generously donating 100% of the refund to charity.
Crowne Plaza Canberra have located deposit bins in the service areas of each guest floor as well as in the restaurant and bar to collect bottles and other recyclable containers.
Crowne Plaza Canberra's General Manager, Rob Stewart, has recently relocated back to the ACT from South Australia. He said he had "personally seen the success of the Container Deposit Scheme in Adelaide and saw the difference it made in the local community there and was delighted to see that this has also been implemented in our bush capital."
They are donating all proceeds from the refund program to the St Vincent de Paul Society Canberra/Goulburn via the scheme. "As a part of the Canberra community, we think that the work that St Vincent De Paul do with their community programs is fantastic and we wanted to play our part in supporting these programs."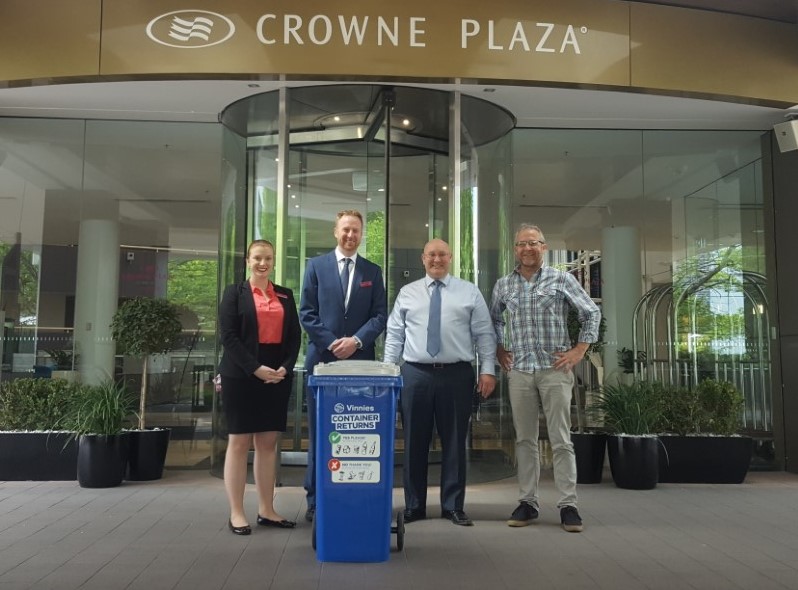 Michelle Lauder, Crowne Plaza Canberra's Marketing Manager, says Crowne Plaza and IHG (InterContinental Hotels Group) are continually looking at ways to support the local community and reduce its environmental footprint. She sees participating in the scheme as "a way we can actively demonstrate our commitment to supporting our community and the local environment and also support our organisation's commitment to sustainability."
Implementing the scheme at Crowne Plaza Canberra is working smoothly and has been well received by the team. "We are very happy to see so many full bins being collected for recycling and our team are delighted to have the opportunity to play a part in assisting to raise funds to support St Vincent de Paul", says Rob.
We here at the ACT CDS would enthusiastically welcome any other businesses who would like to both contribute to a charitable cause and help the environment at the same time. Find out how to become involved in this initiative here.